Tagged:
christian thinking
I'm on sabbatical (translation: I'm resting), so this is a pre-scheduled
post for your encouragement, education and enjoyment! 

For a while now I've been listening to Albert Mohler's audio podcast, "Thinking in Public."  It's a great combination of conversation and commentary on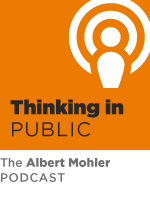 things that are going on in the world.  The conversations are between Dr. Mohler (President of Southern Baptist Theological Seminary in Louisville, KY), and various guests who are influential thinkers, writers, and figures in the public realm.  I never fail to learn something or be spurred on to better thinking about my faith in a world that is in rebellion against God.  Each episode is between 30 and 50 minutes… so it's perfect for your commute, exercise time, or whatever!  Check it out!
"Thoughts disentangle themselves when they flow from the lips or the fingertips." – Dawson Trotman
Much of what I write on this blog comes out of the thought processes I'm going through or have gone through in my own personal world. Whether it's political issues, marriage struggles, parenting problems, or anything in between those, it's always helped me in working out what is going on inside to WRITE OUT what's going on inside – my thoughts, my feelings, my fears, my hurts, my dreams, and my pains. For me it has proved to be instrumental in becoming a better thinker and a wiser man.
Once I discovered the need in my own life, I discovered a second thing – It takes significant portions of time to do this. I didn't (and don't) like to hear that. We are fast-paced, event-to-event, schedule-packed people – and to carve out time for something that seems so intangible is almost counterintuitive. But the truth is that it's crucially, vitally, indespensibly, life-shapingly important. We are a people who are walking around with jumbles of information, feelings, and thoughts tangled and twisted inside our heads and hearts. And God is in there too – somewhere – speaking, tweaking, seeking to guide us through the mess. We have GOT to take time to sort it all out in a wise and Spirit-led way. I see it like the processor in my laptop – it's the key portion of my life that works out things internally, the processing of what really matters.
I've met some people (my wife again) who are able to do this, fairly effectively, in their head as they go about their day. But in my experience those types of people are the exception, not the rule. Chances are that for YOU, it won't work that way either. Most of us, especially the busier life becomes, need to STOP and REGULARLY, and INTENTIONALLY PROCESS what life and the Lord are doing inside us.